Pramac Pi4300 Inverter Generator
The Pi4300 is built using tubular steel frames and steel fuel tank to cope with rough situations.
The 4 wheels carriage makes it easy to transport on any surface.
Weight 163 lb.
7.7 hours runtime @75%, from 3.38 gallon fuel tank
Recoil starter system with electronic ignition makes for easy starting and reliable, consistent service
Fully enclosed design for reduced sound output of 62 dB and protection
Inverter technology reduces the overall size and weight by up to one third in comparison with similar class generators.
Protected with built-in oil sensor that shuts off the ignition if the oil level drops too low
Display incorporates voltmeter, frequencymeter, hourmeter and fuel level.
Allows operations under an overload conditions up to 120% of the rated output for 20 seconds before output is cut off.
This allows the starting of demanding loads such as air conditioners & compressors.
Inverters are ideal for recreational, medical, standby and for powering equipment sensitive to voltage surges (eg. computers) which also gives the cleanest sine wave possible compared to all other generators.
The sine wave is measured in THD or Total Harmonic Distortion.
All Pramac products are exceptional in this category but the inverters are half that number to 3% Total Harmonic Distortion.
Pramac Inverter

Pi4300

Dry weight

163 lbs

Generator Length x width x height

22.83″ x 20.74″ x 24.33″

Continuous Watts

4.3 kW

Maximum Watts

4.8 kW

Engine

Subaru EX270, 4-stroke

Displacement

265cc

Fuel capacity

3.38 US gal

Horse Power

6.3 hp

Sound level at max.load
(dB(A)at 23 ft)

62 dB(A)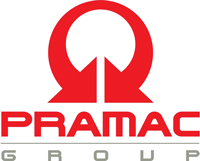 .