Dam-It Benefits & Features:
For coring holes through granite, marble & stone.
The system helps stabilize the drill from walking and scratching the material while maintaining the water.
17 Piece Kit Includes:
Water Dam Centering Rings: 3" & 5" diameter.
Drill Bit Size Rings: 1/4", 3/8", 1/2", 5/8", 3/4", 7/8", 1", 1-1/8", 1-1/4", 1-3/8", 1-1/2", 1-5/8", 1-3/4" & 2"
Dam-It is a self-lubricating drill guide system that produces clean and accurate holes with ease every time.
Millions of dollars are spent every year correcting small preventable mistakes in the stone and tile industry.
This cost effective drill guide system will prevent run-away etching, burning, and cracking upon break through, protecting your finished product.
One of Dam-It greatest features is its ability to transform a multi-person project into a single-user task.
Anyone can drill a clean and precise hole every time.

Drill a perfect hole!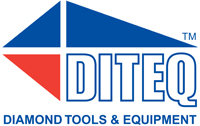 .