Multiquip Modular Light Tower
Multiquip MLT-Series modular light towers combine a rugged frame with a high quality Multiquip DA7000SSW generator. Power unit delivers the features you've come to expect from Multiquip such as brushless design and excellent voltage regulation. Simple mounting requirements provide the ability to exchange power sources with minimal delay. This unique design provides greater versatility than any other light tower on the market.
Features:
Lights can be rotated 360 degree.
Ballasts and light switches for the MLT Series are conveniently located in the tongue area of the trailer. This provides the ability to illuminate an area even without running the generator.
Simply connect the power cord to an alternate power source and you can operate the light fixtures.
This is a great feature for special events requiring either low noise levels or zero emissions.
Fan-cooled Ballast Box resides in the tongue of the trailer in a watertight compartment.
Control breaker switches for the lights are easily accessible.
Heavy-duty brake winches telescope the mast up to 30 feet high and safely hold the mast in position, should the operator release the handle.
Outstanding wind stability with outriggers and jack stands deployed.
72 mph wind stability with genset; 45 mph trailer only.
Control panel features an elapsed hour meter and a convenient 120V GFCI receptacle with circuit breakers for additional power. Separate engine control panel with full diagnostics for engine protection and operator convenience.
Reliable diesel engine offers glow plug preheat system for long service life and easier cold weather starting. Automatic engine shutdown protects the engine from damage due to low oil pressure and high coolant temperature.
Fully equipped highway-ready trailer offers 2″ adjustable ball hitch, 13-inch tires, DOT lighting, VIN number and chains
Multiquip Diesel Powered Generator DA7000SSA
The WhisperWatt series of diesel-powered generators has long been synonymous with superior performance and sound attenuation. As more jobsites and municipalities specify maximum sound levels, this generator is now the clear choice.
Features
Compact, sound-attenuated package with full instrumentation, including hour meter and warning lights for oil, water and battery.
Tier 4 Engine – ETA Compliant
7kW maximum, 6kW continuous
13.9 hp water-cooled Kubota diesel engine, 571 lb
Sound-attenuated package keeps noise level to only 65.7dBA at 23 feet (6.9 meters)
Brushless alternator design eliminates maintenance parts
External drains for oil and fluids simplify maintenance
48 hours+ runtime, lockable control panels with full range of convenience receptacles.
Kubota diesel engine Electric start
Multiquip Mobile Generator

DA7000SSW

Operating weight, Skid mounted

571 lbs

Generator Length x width x height

46 x 26 x 31.5 in

Operating weight with optional trailer

1025 lbs

Continuous Watts

6000 Watts

Maximum Watts

7000 Watts

Engine

Kubota Diesel Z482

AC voltage 1 Ø

120/240 V

Amps at 120V (max)

58.3 A

Amps at 240V (max)

29.2 A

Fuel capacity

12.5 US gal

Fuel consumption

1.3 US gal/h

Horse Power

12 hp

Sound level at max.load
(dB(A)at 23 ft)

65.7 dB(A)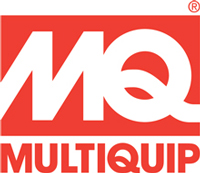 .