Multiquip SP2 Series Self-Propelled
An exceptional performing saw for its size, the SP 2 is built to cover a wide range of cutting applications. This saw comes with a standard 20″ Blade Guard to permit a 7½" depth of cut.
Features
Power options are either a 11 HP Manual Start, or 18 HP V-Twin electric start Honda gasoline engine.
Hydrostatic transmission controls forward/reverse propulsion
A free-wheel handle disengages the drive system for easy site travel.
The strong box type frame maintains its integrity providing smooth travel, superior diamond blade life and cutting performance.
Standard features include: an adjustable height handle bar, lifting bail, removable hinged front blade guard, rugged front pointer, industrial blade shaft assembly, and 5 gallon built in water tank for dust control while cutting dry.
Adjustable handle bar with cushion grips.
Cutting depth is 7.5 inches (190 mm)
Hinged front, lift-up blade guard is designed to provide easy blade replacement.
Locking ACME thread Raise/Lower.
Water system provides an optimum flow and volume of water to the blade; uses standard hardware materials; provides easy replacement and facilitates routine maintenance practices.

Multiquip
20″
SP2 Self Propelled
Power
11 HP (9.7 kW) Honda GX390
18 HP (14.9 kW)GX620
Blade Capacity
20″
Cutting Depth
7-1/2″ (191mm)
Size with
WxL
23.75 in.x 33.25 in.
Front wheels
Rear wheels
5″ x 2″ wide
8″.x 2″ wide
Weight
280 lbs
400 kg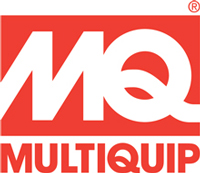 .