PTC2 Diamond Crown Accessories.
Water Feed Adapter
Drive adapter incorporate a water delivery system for crown cooling.
Small diameter water adapter use with 3/16″ to 3/8″ crowns.
Large diameter water adapter use with 1/2″ to 4-1/2″ crowns, pilot hole must be drilled with 1/4″ PTC carbide bit.
Water Sprayer
Pressure pump sprayer for water cooling of the PTC carbide bit and PTC2 diamond crown.
Capacity: 1 gallon.
Water Feed Clamp Kit
Clamp attach the nozzle directly to the drill for a constant flow of water to the cutting edge freeing both hands to control the drill.
Kit includes: depth stop, water feed connector, water feed tube and clamp.
Use the water feed tube adapter with the water Feed either with the PTC2 Diamond Crowns or PTC carbide bits.
Piloting Guide Pads.
PTC Diamond piloting guide pad ensures non slip start up of the 3/16″ to 3/8″ (5-10mm) PTC Diamond crowns.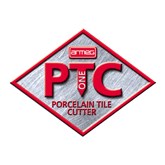 .